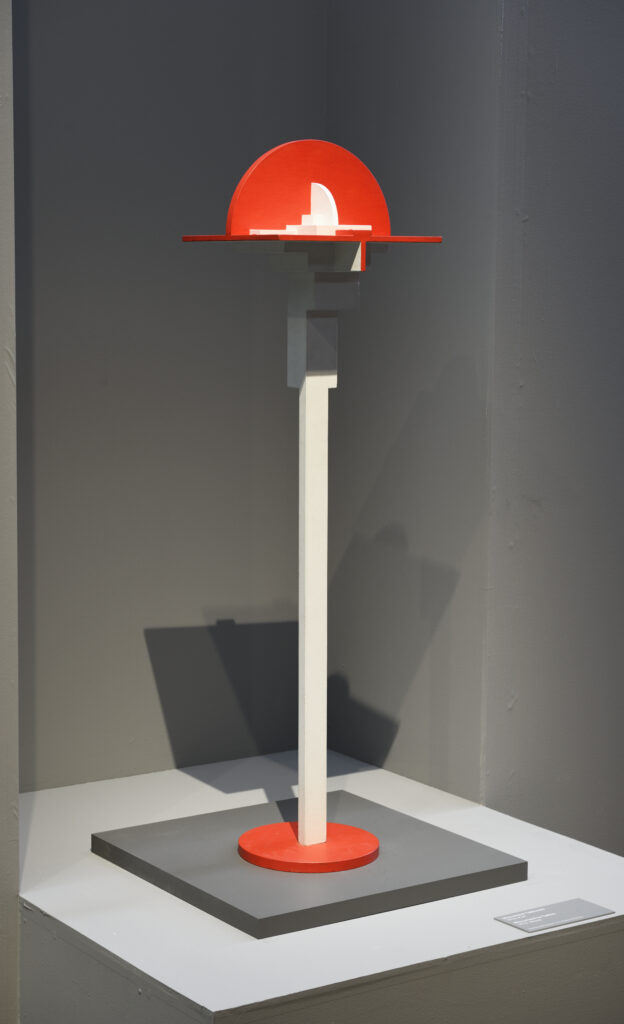 Leonhard Lapin (1947-2022) was one of Estonia's most noteworthy avant-garde artists. He started out at the end of the 1960s with radical artistic innovation, and was the leading figure in introducing Pop Art, Suprematism, Neo-Avantgarde and performance in Estonia. Additionally, he also propagated innovative ideas in architecture, studied and introduced the ideas of Zen-Buddhism, and has written fiction and poetry, as well as art and architecture theory.
During his architecture studies at the Estonian State Art Institute, Lapin exhibited alongside his fellow-students Ando Keskküla, Andres Tolts, Ülevi Eljand, Rein Mets and Gunnar Meyer at the show "SOUP '69" that gave birth to Pop Art in Estonia. At the exhibition Lapin exhibited Pop-inspired coloured drawings, based on magnified fragments of old kitsch postcards ("Kiss of a Bunny"). A year later he created gouache drawings, among them "Lydia Koidula", inspired by the portraits of pop icons from the USA.
Lapin's Pop Art period also includes the first Estonian original comic "Benno Bladrikorn – joie de vivre, views, and a useless death in the Pelegria Café " (1970). An equally notable work is Lapin's artistic contribution to Rain Raamat's Pop-Psychedelic cartoon "Colour-Bird" (1974) that clearly shows his interest in Constructivism, De Stijl and Neo-Plasticism.
Lapin was greatly influenced by Russian avant-garde, especially Kazimir Malevich's theory of Suprematism. His works blend the avant-garde's concept of void and Eastern philosophy, well-known in Estonia in the 1960s and 1970s, which Lapin termed "objective art". One of its expressions was geometrical art, which Lapin exhibited for the first time at the 1977 exhibition in the assembly hall of Estonian Artists' Association. At the time Lapin considered geometric art to be the artistic representation of the new, technical, and urbanised era.
The central concept in Lapin's work is the machine, on which the artist has based his ideas of society and human relationships, seeing the machine as part of a cosmic process. The machine is present in architecture (machine-houses) as well as in his series of prints ("Machines"). There the artist criticises, among other things, how machines are mainly discussed in the context of production, and tries to apply them in the service of pleasure and freedom of choice instead.
Lapin is known as one of the first artists to introduce happenings to Estonian art – he participated in art students' collaborative activities such as "Play with Mannequin" (1968) and "Trio for Piano" (1969), later viewed as some of the first examples of performance art. In the 1990s Lapin organised numerous performances. These were often linked to installations – the performative activity was related to the installation or even physically shaped it. Art historian Anu Allas views performative art as the key to Lapin's multifaceted work, where the most distant opposites meet without excluding one another: absolute idealism and parody, heaviness and lightness, seriousness and jokes, a Zen-like void and sausage sandwich – the latter refers to Lapin's performance "Suprealist Sandwich" (2009).
Around the time Estonia regained independence, Lapin created large-scale installations "Hommage to Finland" at Pori Art Museum (1988), "Obelisk" in Kotka (1990), "Structure and Metaphysics" in Pori and Helsinki (1989) and participated at the Baltic Sea Biennale in Rostock (1992). In 1994 Lapin was and Jaan Toomik represented Estonia at the 22nd São Paulo Biennale, where Lapin exhibited a work looking at Estonian identity through the theme of destroying forests and processing lumber. In a way, the quest to find himself is also expressed in Lapin's prints from the 1980s and 1990s, that art historian Liisa Kaljula has connected to the Sots Art movement ("Malevich-Molotov I", 1989). During this period Lapin used a similar visual language as the objective art of the 1970s, but added Soviet symbols.
In the 1990s Lapin began creating ready-mades ("Architecton with Chalice", 1996). He continued working with ready-mades, prints, painting and collages also in the 2010s. When it comes to Lapin, the role of artistic mythology must not be underestimated, in fact, he has often created and amplified it, at times presenting himself as a classical goddess ("Self-portrait as Venus", 1980/1982) or juxtaposing himself with the first Estonian painter Johann Köler ("Köler-Lapin", 2001). Lapin's numerous writings have also contributed to the creation of his artistic mythology.
Lapin holds a significant place in Estonian architecture: he has researched Modern architecture of the 20th century and written about it, designed notable buildings, and promoted radical architectural ideas. The Tallinn School was a notable group, mainly consisting of architects who had graduated from the State Art Institute in the beginning of the 1970s, who promoted radical ideas of contemporary architecture and emphasised the significance of architecture and society.
Leonhard Lapin graduated from the Department of Architecture at the Estonian State Art Institute (1971). He has organised or participated in non-official exhibitions: "SOUP'69", "Eesti edumeelne taie" (Forward-thinking Estonian Art), "Harku '75", "Arhitektuurinäitus 1978" (Architecture Exhibition 1978). Lapin has had a solo exhibition at Pori Art Museum (1988), he has taken part in the Baltic Sea Biennale (1992), the São Paulo Biennale (1994), the 1st Annual Exhibition of the Soros Center for Contemporary Arts, Estonia (1993), 4th Annual Exhibition of the Soros Center for Contemporary Arts, Estonia (1996). Lapin has published poetry collections under the pseudonym Albert Trapeež. Lapin has won numerous awards, including prizes at the Ljubljana Biennial of Graphic Arts (1973) and at the International Biennial Exhibition of Prints in Tokyo (1974), the Kristjan Raud Art Prize (1989), the Culture Award of the Republic of Estonia (1997), the Fourth Class Order of the White Star (2001), the Annual Award of the Association of Estonian Printmakers (2004). In 2018 Kumu Art Museum held a retrospective of Lapin's work titled "Void and Space".