Almost 2 million exhibition visits were made in 2019 in Estonia
In 2019 art exhibitions were held all over Estonia: in 23 different cities, towns and villages. Our statistics include information from 82 exhibition institutions located in Haapsalu, Jüri, Jõhvi, Karepa, Keila-Joa, Kuressaare, Kärdla, Narva, Paide, Pärnu, Põltsamaa, Rakvere, Rapla, Tallinn, Tartu, Türi, Valga, Vana-Kasepää, Varnja, Vaskjala, Viinistu, Viljandi, and Võru.
Since 2018 one of the exhibition houses previously included in the statistics, Brivibas Gallery in Valga has closed its doors. Two new large exhibition institutions have opened: Fotografiska at Telliskivi Creative City and Kai Art Center at Port Noblessner. Fotografiska's inaugural exhibition was among the top ten most visited exhibitions in 2019. In Viljandi, Rüki Gallery was established.
In 2019 a total of 966 art exhibitions took place, which indicates a slight increase since 2018. Almost half of these exhibitions took place in Tallinn (417 exhibitions, 39 exhibition houses), followed by Tartu (151 exhibitions, 8 exhibition houses) and Kuressaare with 63 exhibitions (5 exhibition houses).
Artists in exhibitions
Of the 966 exhibitions that took place in 2019, at least 206 exhibitions featured an international artist or curator. Around half of the exhibitions with participants from outside Estonia took place in Tallinn (102) and the rest elsewhere in Estonia (104). In the top ten most visited exhibition houses there were more solo exhibitions by female artists than by male artists. Here Art Museum of Estonia's special programme celebrating the centennial of the Republic of Estonia with a focus on female artists played a significant role. So in 2019 Kumu Art Museum held solo exhibitions of ten female artists and six male artists (including duo and trio exhibitions). Tartu Art Museum exclusively held solo exhibitions by female artists. The proportion of solo exhibitions by male artists was greater at the Museum of Estonian Architecture, MONA, the New Museum of Art, and Kadriorg Art Museum.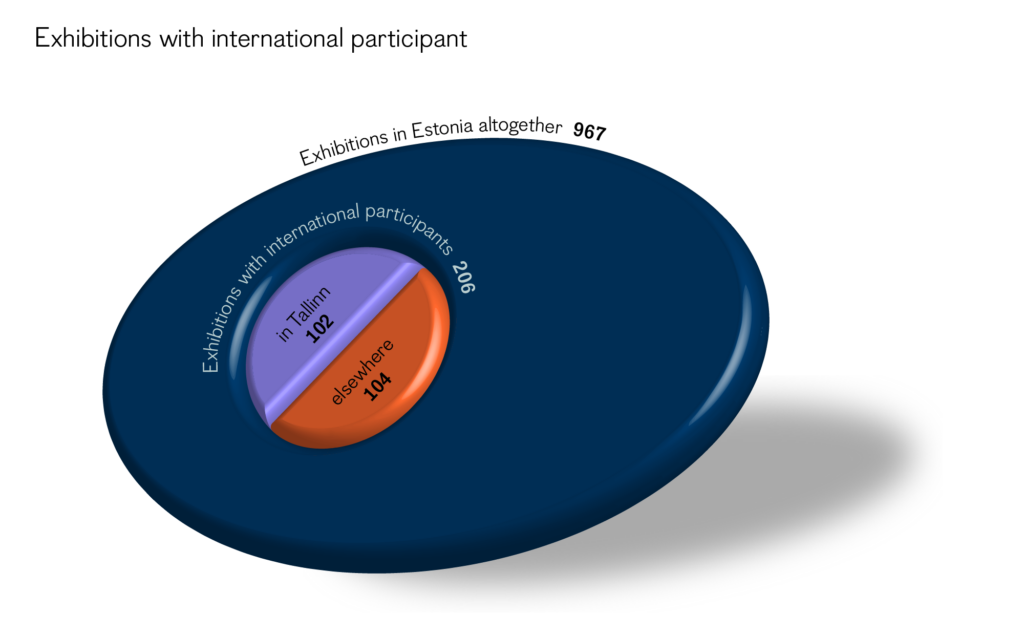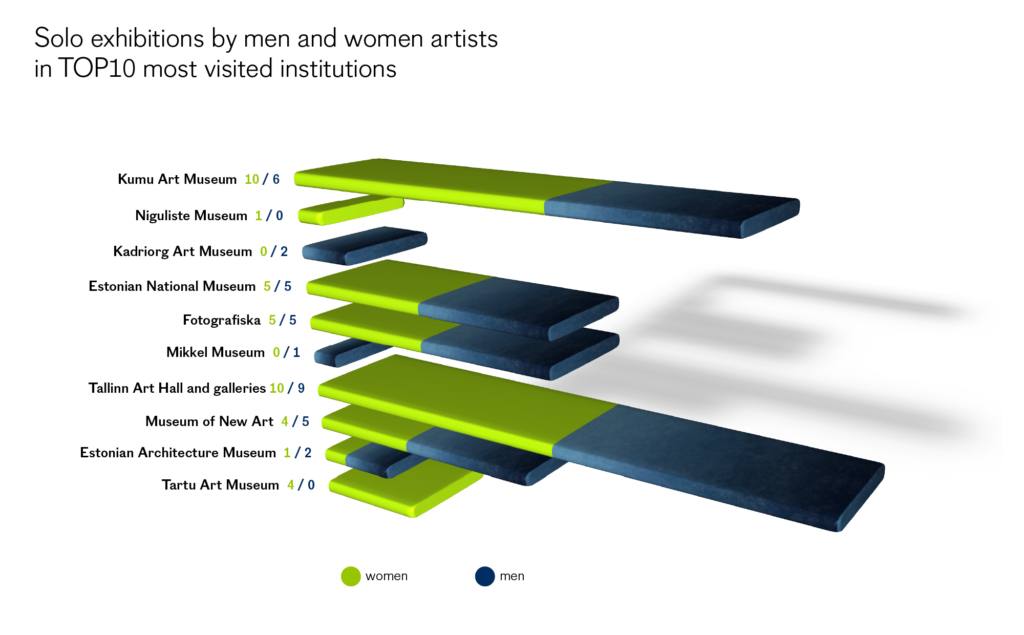 Most visited exhibitions
Numbers included in the statistics give a great overview of the total number of exhibitions in Estonia and their distribution by location. Visitor numbers, however, are to a degree subject to speculation and in reality might differ from their presentation in current statistics. This is due to many exhibition institutions' inability to count visitors. In larger exhibition institutions several exhibitions are open at the same time, however, rather than counting the total visitor numbers, each visit has been counted separately. As a result, we have presented exhibitions houses' annual numbers as visits, not the total number of exhibition visitors.
In 2019 a total of at least 1 921 415 exhibition visits were made, 72% of which was divided between the top ten most visited exhibitions. Among the most visited exhibitions are Art Museum of Estonia's permanent exhibitions, however, in the top ten, we also find fashion exhibitions like "Tommy Cash and Rick Owens. The Pure and the Damned" and "Sots Art and Fashion. Conceptual Clothes from Eastern Europe." The most visited exhibition spaces are the larger branches of Art Museum of Estonia (Kumu, Kadriorg, Niguliste).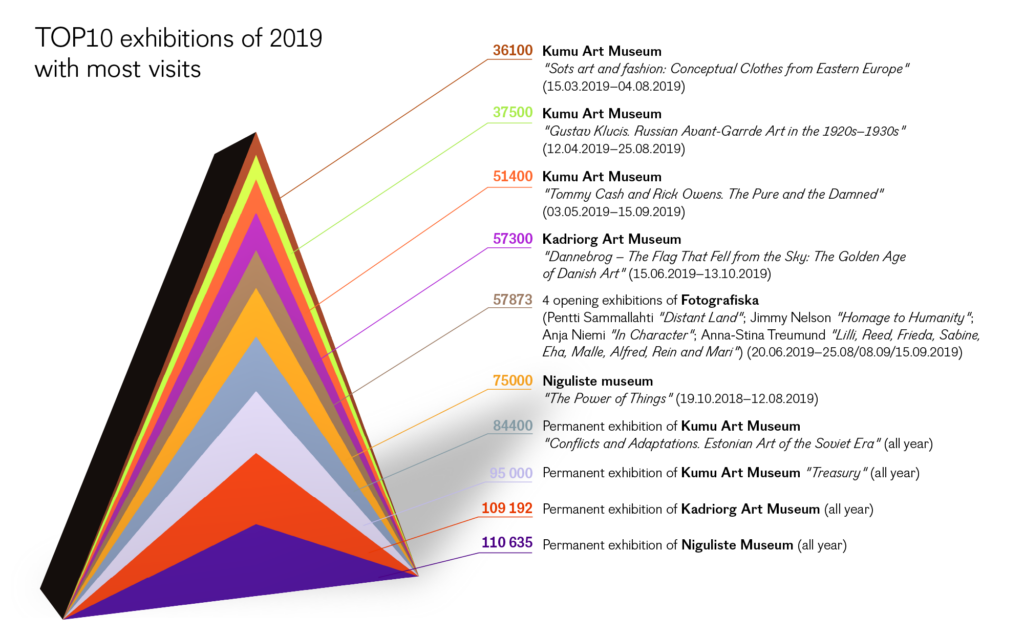 On collecting data and statistics methodology
The CCA has compiled data since 2016, when we started gathering and analysing exhibition related data from as many exhibition houses showcasing professional art as possible. Initially, the aim was to map gender balance in the Estonian art scene. In the following years our data collection has expanded, now including the number of exhibitions with participants from outside the country as well as visitor numbers.
The first stage of collecting statistics is compiling a chronological list of exhibitions based on public information (exhibition house's website, Facebook, etc.), which is then usually sent to the exhibition house for review.
We define exhibition houses as organisations that focus on exhibiting professional art as their main activity or one of the main activities (museums, galleries, showrooms, artist run spaces, exhibition spaces of art residencies). This does not include cafés, restaurants and other eateries or establishments and public spaces (schools, libraries, hotels, etc.), where art is exhibited occasionally. Independent art collections (e.g. Bank of Estonia, etc.) are not included either. Only art exhibitions are covered.
Collecting statistics and developing analysis is a priority for the CCA, as currently there is no data available pertaining to the field of art, which would nevertheless be a necessary tool for mapping development of the field. Statistical overview provides an important cultural political dimension to understanding the local art field, providing data for analysing changes and developments occurring in the Estonian art field. One of the CCA's goals in the coming years is to continue developing data collection principles and methods.